RAFTING: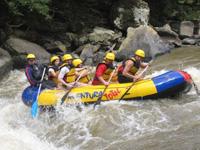 We invite you to enjoy an exciting trip through the rapids of the river Cañete. The emotion and adrenaline awaken your senses to live with us this fascinating adventure.
LUNAHUANA TOURS offers the best security system for boating and sections of different levels (basic, intermediate and advanced).
INCLUDED:
Navigation equipment and personal protection (paddles, helmets and lifejackets Class V).
Certified bilingual instructors with first aid and rescue (Rescue 3 International).
Instruction and practice before entering the river (salvage and rescue techniques.)
Mobility exclusively for transfer to the starting point.
Kayak safety (depending on level).
Personalized service.